Frozen shoulder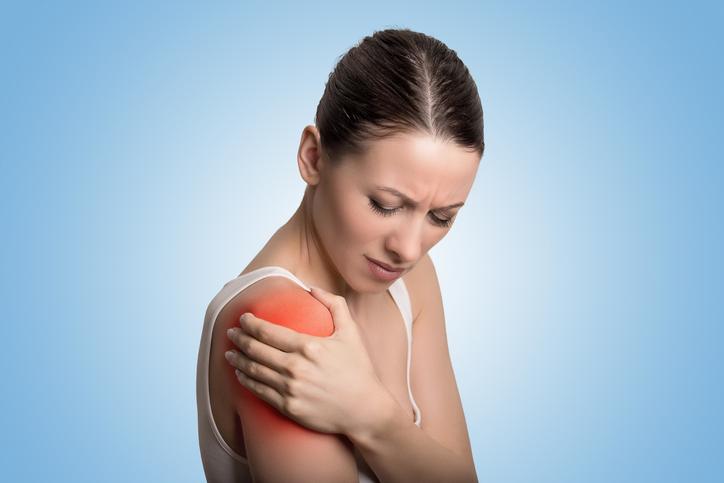 Getty Images under licence to PhysioQinetics Ltd.
What is a frozen shoulder?
Frozen shoulder is also known as adhesive capsulitis. It is a common shoulder condition characterised by loss of movement and pain in your shoulder joint. The bones, ligaments, and tendons that make up your shoulder joint are encased in a capsule of connective tissue. Frozen shoulder occurs when this capsule becomes inflammed (hence capsultitis), thickens, and tightens around the shoulder joint, restricting its movement. 
It can occur after an injury, surgery, or spontaneously without any obvious reason. It is more likely to occur in people who have diabetes or in middle-aged people around 50 years of age, particularly in women.
Frozen shoulder typically occurs in 3 stages and develops slowly. Each stage can last a couple of months. The whole process from start to finish can take up to 18 months. This is highly variable and depends on each individual.
The first stage is the "freezing" stage and this is the most painful stage. Your shoulder range of motion starts becoming limited and it can be painful sleeping at night.
 
The second stage is the "frozen" stage and this is where there is restricted range of motion of your shoulder. Pain begins to diminish in this stage.
 
The third stage is the "thawing" stage and this is when your shoulder range of motion starts to return.
Getty Images under licence to PhysioQinetics Ltd.
Treatment for a frozen shoulder
Over the course of a frozen shoulder, as the symptoms go on for some times, it is common to lose strength as well as flexibility in the shoulder. Our physiotherapists can help diagnose the condition and discuss the different treatment options, as well as provide physiotherapy treatment for a frozen shoulder. 
This includes using various manual "hands-on" treatment techniques to control shoulder pain and help you regain as much range of motion in your shoulder as possible. Our physiotherapy treatment for frozen shoulder may include:

For persistent symptoms, there are also other options such as steroid injection, joint distension, shoulder manipulation or surgery. Even if you have had any of these interventions, concommitant physiotherapy will be key to help improve and maintain your shoulder movement.