2020 PhysioQinetics Patient Survey
In this information and evidence driven medical world, it is very important for us to audit our performance. Not only does this allows us to improve our clinic performance, it also shows to our patients our commitment to provide the best possible care to them.
As such, we decided to conduct the 2019-2020 PhysioQinetics Patient Satisfactory Survey. We are proud to present the analysis here:-
Between June 2019 and Jan 2020, we randomly selected 101 patients from across our 4 clinics in Uxbridge, Staines, Maidenhead, and Brentford. We asked our patients to help us answer a simple 8-point questionnaire. 
The majority of patients came to us with back (38.6%) and knee (24.8) problems [see pie chart above]; these were followed by neck pain (12.9%), shoulder pain (10.9%) and other complaints.Almost all (93.1%) patients surveyed had pretty severe (grade 4 to 5 out of 5) symptoms when they first visited us; but after an average of 3 to 4 treatment sessions, 
92.1% of patients reported symptoms improved to only mild level (grade 1 to 2 out of 5). In terms of symptom improvement, 50.5% of patients surveyed had at least 75% improvement; with 71.3% showing at least 60%, and a staggering 90% showing at least 50% improvement.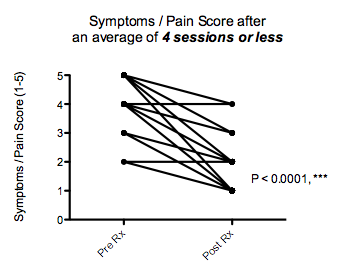 We are proud to report that 84.2% of our patients needed 6 or less treatment sessions, and 63.4% needed only 4 or less treatment sessions to achieve the above excellent results - this is a clear testimony of how effective our treatment is!
Very importantly, this is the key message:-

Of the 52.5% of patients surveyed who had previously visited other physiotherapists, chiropractors, or osteopaths before coming to us, 94.3% of them, after their treatment sessions, thought we performed better than our colleagues!!

And 100% of those surveyed would recommend us to their friends and family!!